Employment Law
Our highly regarded Employment Law solicitors have considerable experience in helping individuals to resolve their employment law issues and recognise that changes in the working environment can cause emotional and financial stress.
We understand that it is important to get the right advice at the outset and that you will want reassurance on the costs involved. We offer an initial fixed fee meeting, so we can meet you to gain a better understanding of your situation and advise you on the best course of action.
Being involved in a workplace dispute can be a very stressful situation. It is crucial to seek early professional legal advice when pursuing a claim against your employer or if you intend to bring a claim in the employment tribunal.
From the outset of your case, our friendly and pragmatic team will outline the potential costs that you are likely to incur. We will fully outline the risks and discuss options available to you to successfully resolve the claim.
We have in-depth knowledge of employment law and will assist you with issues that you face within the workplace including: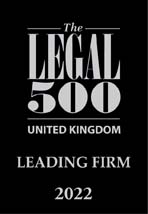 ---
Employment Law Testimonials
The team were both professional and friendly, at the same time as being super-efficient and on the ball from the outset. I instantly felt confident in that I had selected the right team to support me at what was an extremely stressful and emotional time for me. The speed at which the team responded to my initial query, to the first phone consultation and their ongoing support throughout my case, gave me absolute faith that I would get the support I needed and when I needed it.
Legal 500, 2022
I just wanted to say I would highly recommend and can't thank you enough. My first encounter was with Shaylie who was so lovely and explained the process involved with a redundancy settlement. I was really concerned as I had such a short deadline to meet, so I sent Shaylie the necessary documentation and she informed me her colleague, Lucy, would be in touch. I received an email from Lucy the same day, arranging a telephone appointment for the next day and I explained I had a newborn baby. Lucy was so accommodating and I was able to pick a time suitable for me and was told I didn't need to worry if I needed to cut the call short, she could always pick up later if my little one became unsettled. I was so grateful for this. Lucy was so lovely and friendly, and nothing was too much trouble. It was also just the little personal touches, she always remembered my little girls name and wished us well when it was all completed. Thank you for an amazing service.
Employment Client
I have been very pleased with your service and will from now on be using Spire for all my solicitor requirements. Thank you.
Employment Law Client