Employment Law
We have a considerable experience in helping individuals to resolve their employment law issues and recognise that changes in your working environment can cause emotional and financial stress.
We will use our expertise to negotiate the right result for you.
We understand that it is important to get the right advice at the outset and you will want reassurance on the costs involved.  We offer an initial fixed fee meeting, so we can meet you to gain a better understanding of your situation and advise you on the best course of action.
We can help you in a number of ways during the different stages of your career including:
On entry  
We can give an informed view on whether the terms of your contract of employment or service agreement are reasonable and identify any potential gaps or omissions in the overall package being offered.  We can offer clear guidance on the likely enforceability of any restrictive covenants and advise you on your duties and responsibilities if you are undertaking a senior role.
During Employment
We are adept at advising on the myriad of issues which can arise during your employment including:
grievance and disciplinary issues
ill health
performance
holiday
family leave (including maternity, shared parental and paternity leave)
flexible working
allegations of harassment and discrimination
whistleblowing
redundancies and restructurings
TUPE
Equal pay
We recognise its challenging to keep pace with the changes to your employment rights and to fully understand how to exercise them.  We offer straightforward, pragmatic advice.
On exit
When it comes to negotiating your exit, it is important that you choose the right adviser to guide you through the negotiation process and secure the best outcome for you.  We adapt our approach and tailor our advice to achieve the best outcome for you, be it financial or setting you up for your next career opportunity.
Settlement Agreements
We have successfully negotiated and advised upon hundreds of settlement agreements for employers and employees.
We can provide help and support if you have been asked to sign a settlement agreement.  We can act as your independent legal adviser and we will make sure you are fully in the picture about the financial and other terms.  We will tell you if we think the terms are reasonable and if they affect your ability to secure future work.
Employment Disputes
We have a wealth of experience when it comes to advising on Employment Tribunal litigation, ranging from complex discrimination to straightforward unfair dismissal claims.
We can help lessen the pain by working with you to reach your preferred outcome, whether by negotiation, mediation or through the judicial process.  We provide timely advice and with the least possible stress, disruption and expense.  For more information on fees please see our Employment Tribunal costs.
We are prepared to consider a range of financing possibilities depending on your circumstances, and may be willing to undertake the work on a conditional fee basis if we consider your claim has strong prospects.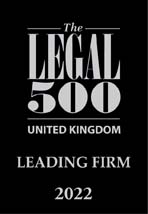 ---
Employment Law Testimonials
The team were both professional and friendly, at the same time as being super-efficient and on the ball from the outset. I instantly felt confident in that I had selected the right team to support me at what was an extremely stressful and emotional time for me. The speed at which the team responded to my initial query, to the first phone consultation and their ongoing support throughout my case, gave me absolute faith that I would get the support I needed and when I needed it.
Legal 500, 2022
I just wanted to say I would highly recommend and can't thank you enough. My first encounter was with Shaylie who was so lovely and explained the process involved with a redundancy settlement. I was really concerned as I had such a short deadline to meet, so I sent Shaylie the necessary documentation and she informed me her colleague, Lucy, would be in touch. I received an email from Lucy the same day, arranging a telephone appointment for the next day and I explained I had a newborn baby. Lucy was so accommodating and I was able to pick a time suitable for me and was told I didn't need to worry if I needed to cut the call short, she could always pick up later if my little one became unsettled. I was so grateful for this. Lucy was so lovely and friendly, and nothing was too much trouble. It was also just the little personal touches, she always remembered my little girls name and wished us well when it was all completed. Thank you for an amazing service.
Employment Client
I have been very pleased with your service and will from now on be using Spire for all my solicitor requirements. Thank you.
Employment Law Client