Experience & Background
Howard Bailey is a Partner within the Commercial Property Team.
Howard qualified with an ambitious, leading law firm in the South of England, after which, he successfully relocated to Norfolk, to continue his career growth with leading and growing law firms in the UK.
Since qualifying, he's been involved with all commercial property related matters, with a particular focus on property development. Howard completed a secondment with one of Norfolk's leading promoters in 2020-2021 increasing his knowledge and experience of the planning processes of property development. Howard has worked with clients on a number of substantial and complex development transactions in the region. Howard also has a keen interest in energy projects, helping a number of landowners in particular.
In his spare-time, he enjoys cricket, cycling and being a father, taking the kids to the park and beach, especially East Runton Beach.
Fun to know: Howard once cycled from Lands End to John O'Groats to raise money for the MSA Trust and also once met Gordon Bennett.
Testimonials: 
"I instructed Howard to deal with an easement release and I found him very professional, extremely approachable, very understanding of the problems this easement had caused me and of my need to have the matter completed as quickly as possible.  All my queries were dealt with very promptly and in a very polite manner. I cannot recommend Howard highly enough. Thank you so much."
"Just to join the chorus of thanks to Howard Bailey for holding all the legal strings together in our land sale, and for resolving the dilemmas & uncertainties arising from all of the characters involved in such a long and complex transaction!"  
"Howard Bailey has provided me with very helpful advice and assistance. I found him to be thorough and patient with clear explanations of legal wordings that I didn't fully understand.
So, again, Thank You very much for your help, Howard."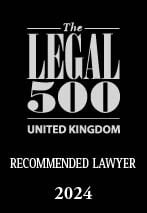 Prompt and professional service. Always on contactable to cover all technical queries. Howard's thorough approach made the process comfortable and put our minds at rest to concentrate on running our business. Would definitely recommend
Mr Clements
We have been working with Howard Bailey for 3+ years. He is outstanding. Great listener. A real asset to our business together with his team of associates so much so that we feel he is a member of our team.
Client
Howard Bailey was introduced to me by a friend and I was never disappointed with his work. He is always extremely helpful, very clear with his explanations and incredibly efficient with his response to any problems. I cannot recommend him more highly.
Client
Howard Bailey – over our years of working with Howard we have come to firmly rely on his help and advice. He has become a trusted member of our extended team. He is exceptionally diligent, conscientious and a great listener and he is very kind.
Legal 500, 2023
Our People